Why are loyalty programs quintessential for achieving personalization?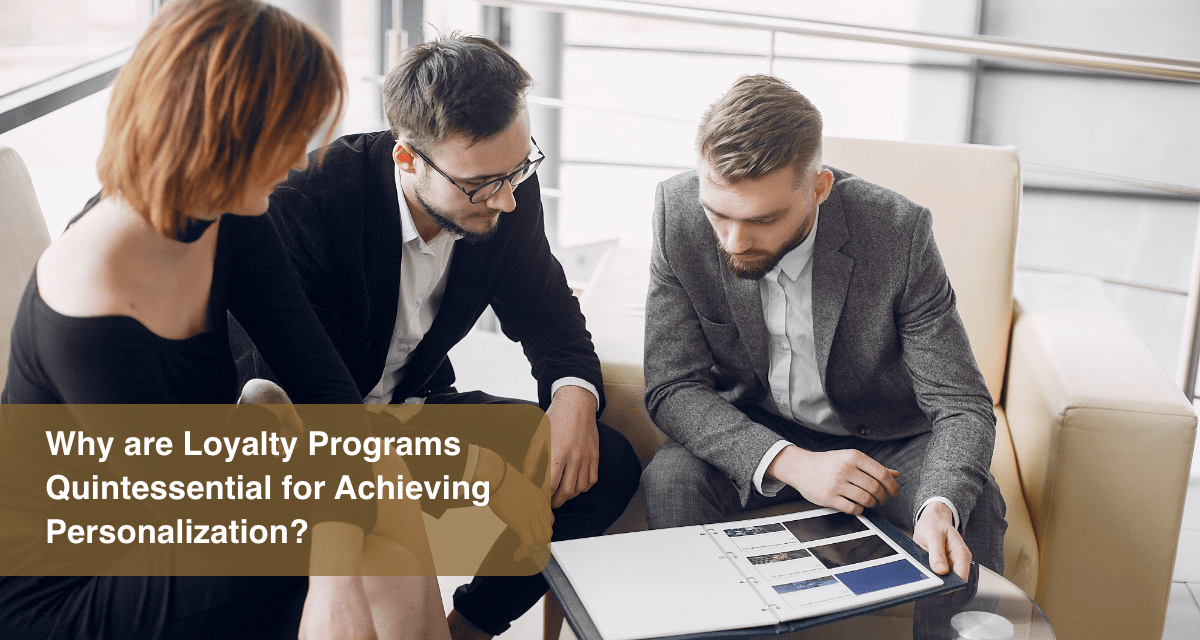 Marketers understand the necessity of embracing personalization for customers. Brands try every market trend, from personalizing marketing communications to launching unique offers for different customer segments.
Out of many marketing tactics, loyalty programs have proven to be the most effective strategy for brands. Loyalty programs improve customer engagement, capture customer data, and build long-lasting customer relationships.
Personalization is the foundation of long-lasting customer relationships. It encourages higher engagement with customers. Here are some stats that show the impact of personalization on customer relationships.
47% of customers are likely to use their loyalty program points to win a prize or experience based reward instead of just redeeming points for discounts.
80% of customers are more likely to purchase with a personalized experience.
Brands offering loyalty programs comparatively do well with personalization-focused campaigns.
How do loyalty programs enable brands to attain personalization?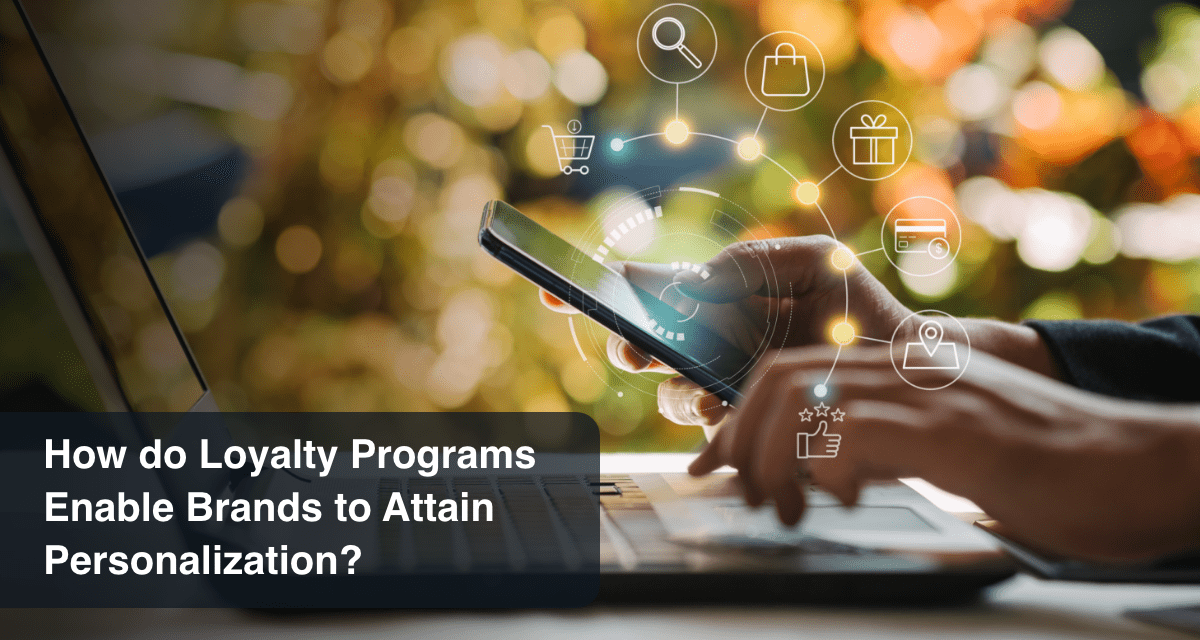 1. Loyalty-based campaigns with customer segmentation.
The most fundamental way loyalty programs work is through point based rewards.
But how would these point-based rewards add to personalization?
It all comes down to data and analytics.
To add personalization to any loyalty program, brands can leverage customer data. Data analytics helps with customer segmentation and enables rewards, campaigns and communication to be personalized to customers.
Brands include interactive quizzes and surveys to collect customers' data and plan rewards accordingly. The more customers participate in the quiz, the more points they can earn.
Rather than offering the same rewards for the points earned, brands should segment customer preferences and reward them accordingly. For example, a member who likes shopping through the app can receive extra points for in-app purchases. On the other hand, a member with offline purchase history could redeem points at the store.
2. Experiment with loyalty rewards using data
There are multiple ways brands can leverage the power of personalized rewards. While most people like to shop online, a majority of customers still like to shop in-store.
So, brands need to align their rewards based on customer preferences. Deep data analytics finds meaningful insights to understand customer preferences.
With a data-driven loyalty program, a brand can recognize customers who make in-store purchases and target them with suitable rewards like basket discounts, in-store coupons, transactional rewards, and goodies for visiting on birthdays.
For online customers, an omnichannel approach can help brands achieve retention goals. Whether for referrals, social shares, or in-app purchases, brands can reward customers across every channel based on the data collected from several touchpoints.
Deep data analytics can help with more targeted insights, such as the category customers like, experiences they look forward to, and engagement activities they are interested in.
Some of the most common yet effective personal rewards include birthday notes and seasonal rewards like exclusive winter collection etc.
The best approach is to surprise and delight customers regularly!
The surprise and delight approach nurtures your relationship and makes customers feel valued. Brands should increase interaction with the customers using unexpected rewards like a thank you note, a birthday gift, early access to new product launch, and a free pass to their favorite event.
3. Personalization with tier-based loyalty programs
Not only do tiered programs encourage better customer engagement, but they also help with better personalization. Customers make efforts to attain the highest level of the tiers if the perks appeal to them. Personalizing the rewards ensure that customers are always chasing the highest tier.
For example, brands can set up tier-based experiential rewards such as a handwritten note by the CEO for gold members, a ticket to Disneyland for platinum members, and exclusive dinner booking.
4. Experiential rewards in loyalty programs
A majority of customers prefer experiences over free stuff or discounts. Rewards that excite them or deliver new experiences are more valuable for such customers.
Brands like Nike know how to win customers with experiential benefits exclusively designed for loyalty members.
What matters is to make these rewards as contextual as possible. For example, a famous kitchen appliance brand can launch a program where members get a chance to get a five-meal course cooked by a renowned chef if their annual spending with the brand goes above 1,000 dollars!
Example of how contextual experiential rewards work– a fashion brand can invite all early shoppers to a fashion show and exhibit its new collection when its loyalty members purchase $500 in the last three months.
Key ingredients of loyalty programs that lead to better personalization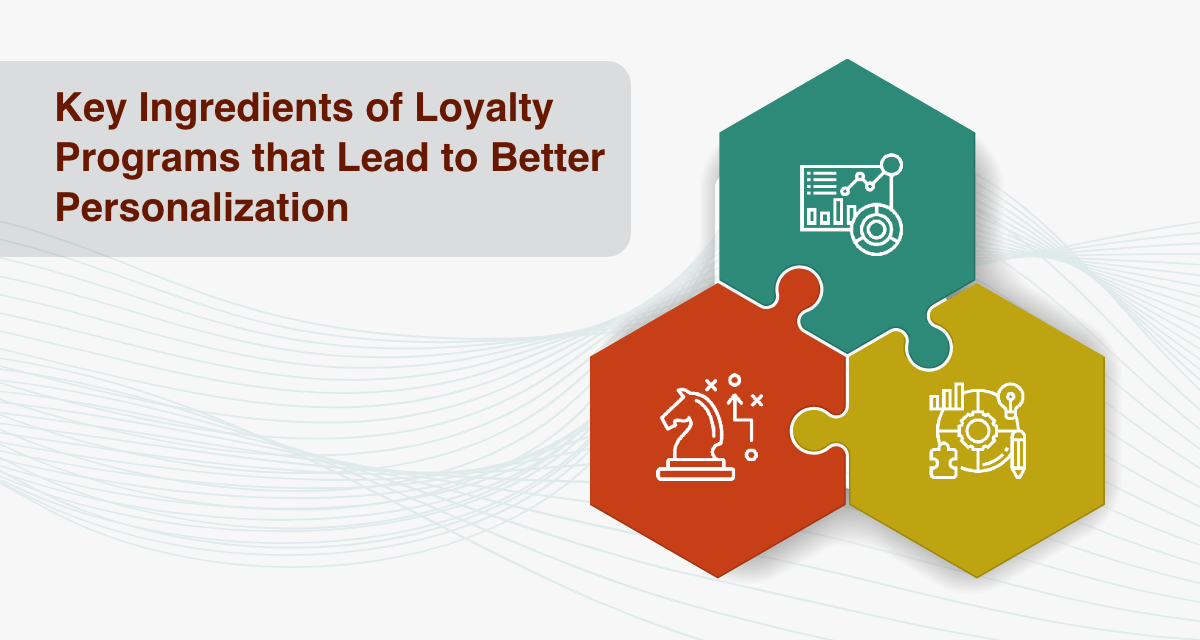 Loyalty programs are helping brands achieve goals beyond revenue. It is possible only when marketers approach loyalty programs holistically.
A holistic approach to managing loyalty programs drives value for brands throughout the customer journey. From producing actionable insights through customer interactions to aiding in marketing strategy by forecasting buyer patterns, loyalty programs are capable of bringing growth sustainability to a brand.
1. Analytics
Deep data analytics helps understand the current customer behaviors, profiles, and design loyalty program with data first approach.
2. Technology Platform
With the right technology platform, a loyalty program can be automated, AI-driven, and omnichannel which helps brands in achieving customer satisfaction.
A technology-driven loyalty program's key features include increased members' security, seamless integration, and single dashboards.
3. Strategy Consultation
With data and metrics, brands know what needs to be improved, how loyalty rewards can be personalized, and what customers are expecting in the near future. With the right strategy, a future-proof loyalty program seems attainable.
Final Words
A successful loyalty program is based on a give-and-take approach. And to keep customers engaged within the program, brands need to personalize across various touch points.
Personalization gets easy when a loyalty program is based on data-driven strategies. The data analyzed from customers' purchase behavior and interests can add to personalized rewards. In addition, brands that build loyalty programs with a holistic approach include contextual rewards and target-based campaigns for better outcomes.