Southwest Airlines Rapid Rewards Case Study: What Makes It Popular?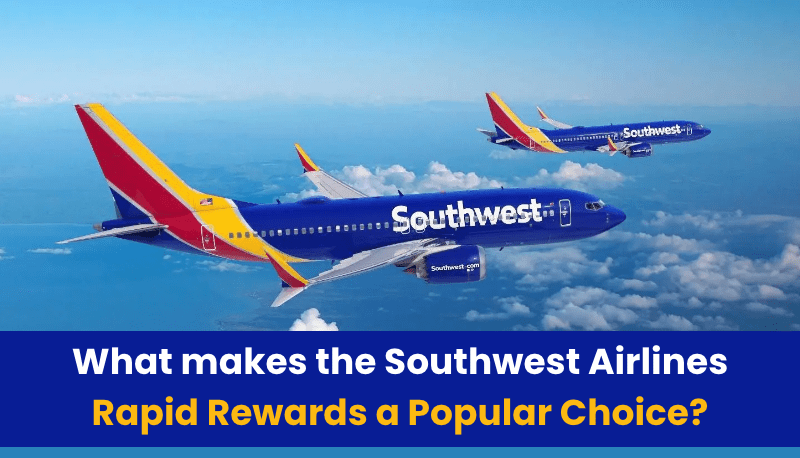 With no shortage of airlines, competition is fierce in the United States travel industry. Every airline has launched a loyalty program to retain customers. Out of many loyalty programs in the market, Southwest Airlines' program has gained huge popularity. Its unique guidelines and customer-centric approach have enabled the brand to enhance the impact of brand loyalty.
The Rapid Rewards program has been named "America's Best Loyalty Programs 2022" for its amazing rewards and benefits. It has also earned recognition in the category of 'Best Customer Service' at the Freddie Awards.
The program is popular for its ease of use. The points never expire, there are no blackout days, and many features like this make Southwest Airlines the favorite choice for customers. Its employee retention policy has garnered significant attention in the market. Having an employee retention rate of 96% reflects brand advocacy among its internal audience.
What makes Southwest Airlines Rapid Rewards so popular?
Southwest Airlines knows what the customers want, and they have incorporated these aspects into their loyalty program. The airline's customer service and affordable fares have earned it a 33.9% "excellent" rating from customers. In addition, it has the lowest number of customer complaints in the travel industry. Here are the key features that differentiate Southwest Airlines from other competitors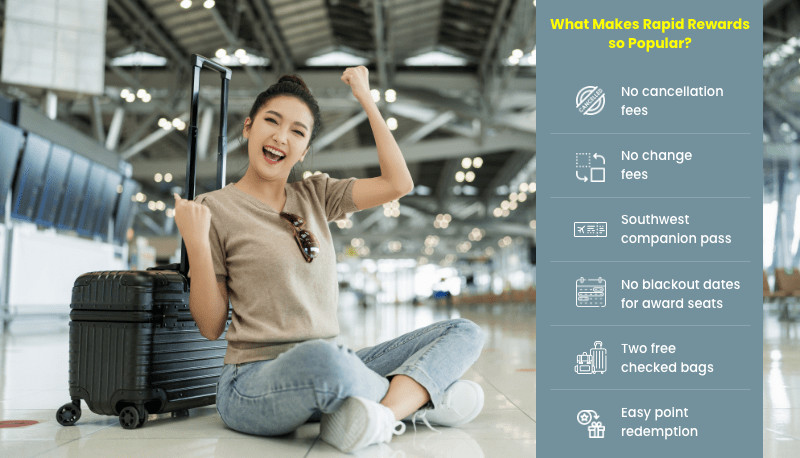 No cancellation fees
It is not unusual for people to sometimes cancel their flights due to a change of plan or an emergency. But it is rare for airlines not to charge a cancellation fee. Southwest Airlines has broken this stereotype by charging their loyal customers with no cancellation fee. However, there are still some non-refundable Southwest flights. Award fares can be canceled until 10-minutes before departure for free.
No change fees
Like the no cancellation fee, Southwest does not charge an extra amount to change a flight. Customer only needs to pay the difference in fare between the flights. Fliers can pay the fare using money or points earned in the Rapid Rewards program. Southwest is one of the only Airlines that never asks for any change fee, cancelation fee, or baggage charges.
Southwest companion pass
The Southwest companion pass is a valued perk in the Rapid Rewards program. The pass opens a buy-one-get-one deal for loyal customers. You can fly with a companion without paying for the tickets whenever you buy a flight ticket or redeem points for a flight. Only the mandatory taxes are paid in such cases, starting at $5.60 one-way.
No blackout dates for award seats
Every airline offers a limited number of award seats to its loyal customers. These seats are either free or heavily discounted based on airline miles. But, most airlines have blackout dates where these seats cannot be booked. Southwest Airlines is one of the few airlines that does not have blackout dates for its award seats. Even on holidays or other popular travel periods, the airline allows its Rapid Reward members to buy tickets for the award seats.
Two free checked bags
US airlines usually charge around $30-40 for the first and second checked bags. But customers of Southwest Airlines can enjoy the benefit of two free checked bags, including the Ski and Golf bags. Military officers traveling on duty or due to transfer of station do not pay for their third checked bag or oversized bag either. This allows customers to save around $120 for a round trip.
Easy point redemption
Southwest airlines have made the process of redeeming points easy. As the points do not have an expiry date, you can redeem them anytime you want. The airline has a platform for the redemption of Rapid Rewards points. Loyalty program members can visit the portal and use their points to pay for products. Unlike other airlines, Southwest's loyalty reward points are not limited to redemption for airfare. Instead, members can use the points for shopping, gift card, or donate them to charity.
Well, it doesn't end here. Apart from the features above, Southwest airlines have designed the process of earning points with the user at the core. Let's find out the ways anyone can earn loyalty reward points-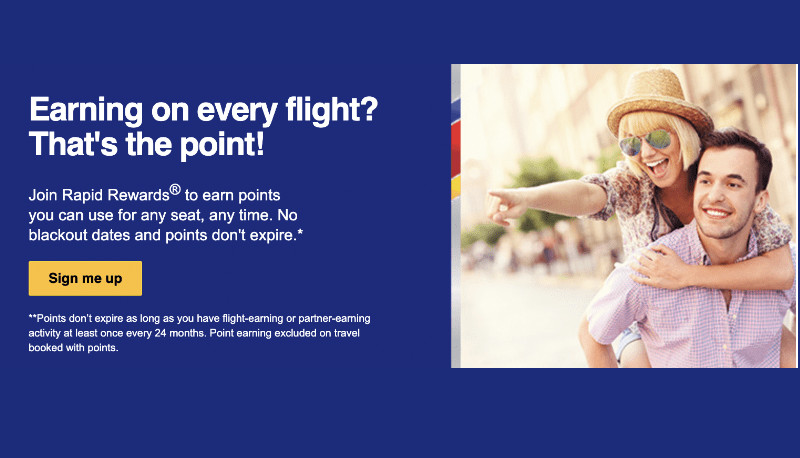 Ease of earning points with Southwest Airlines Rapid Rewards:
1. Earn points through flying
With Southwest airlines, members can earn points for every ticket they buy. However, the number of points per dollar varies for different ticket categories.
Business select
Members choosing business select fare earn 12 points per dollar. For example, if the flight ticket costs $220, the customer earns 2,640 points.
Anytime
Members can earn 10 points per dollar. So, if the flight costs $220, members earn 2200 points.
Wanna getaway plus
Choosing this fare allows members to earn 8 points per dollar. Members earn 1,200 points for a flight costing $150.
Wanna get away
In this category, members get half the points of the Business Select category which is – 6 points per dollar. Members earn 600 points for each flight worth $100.
2. Earn points through partnerships
Southwest airlines have partnered with many brands – from credit card businesses to restaurants and hotel chains. When members spend money on Southwest partners or use Southwest credit cards, they earn a specific amount of points.
Credit card partners
Southwest airlines have partnered with VISA to create Southwest credit cards. The airline has two different types of credit cards – commercial and business. Members can earn up to 40,000 points by purchasing with a commercial credit card. Whereas the business credit card allows members to earn up to 80,000 points.
Travel partners
Southwest Airlines has partnered with many hotels. The list of partnered hotels includes -World of hyatt, Radisson, Marriott bonvoy, Choice hotels, and Best western hotels and resorts. Rapid Rewards members can earn points when they check-in at any of the above hotels. Members can also exchange points if they are loyalty program members of the mentioned hotels. This allows the member to get extra benefits from the hotels (a fact that only adds to the program's popularity).
Shopping or dining partners
Southwest has partnerships with over 800 popular brands like Staples and Macy's. You can visit an online shopping portal and earn points for each purchase. In addition, the Rapid Rewards dining program allows members to earn 3 points for each dollar spent at partnered restaurants.
Specialty partners
Another way to earn rewards with Southwest Airlines Rapid Rewards is by taking online surveys. This is the easiest way to earn points as a loyalty program member. You can choose from the three portals – rewards for opinions, e-rewards, and emergency assistance plus. Each category has different criteria to earn points. This helps the airline collect essential customer data while engaging and rewarding customers at the same time.
Partnerships open new avenues for brands and strengthens the offering to customers by providing them more choice and value in a loyalty program.
Conclusion
The Southwest Airlines Rapid Rewards case study concludes that it is a first-class loyalty program for frequent flyers. The various means of redemption, customer-focused policies and a simple interface have helped it gain traction among customers. With the way Rapid Rewards continues to enhance customer experience, the airline is set to stay on top. The key takeaway for brands looking to launch a loyalty program is to treat customers as the heart of a loyalty program. Strategies and actions revolving around the customers interests and needs enables brands to ensure customers find value in the program and return to the brand.
The core of leading loyalty programs is a robust loyalty platform. Zinrelo is a leading loyalty management platform empowering brands globally in growing customer loyalty. With the data analytics, a strong technology platform and strategic consultations that the Zinrelo loyalty software offers, brands are achieving positive results in building brand loyalty and boosting customer retention.