Loyalty Programs- A lifeline during times of crisis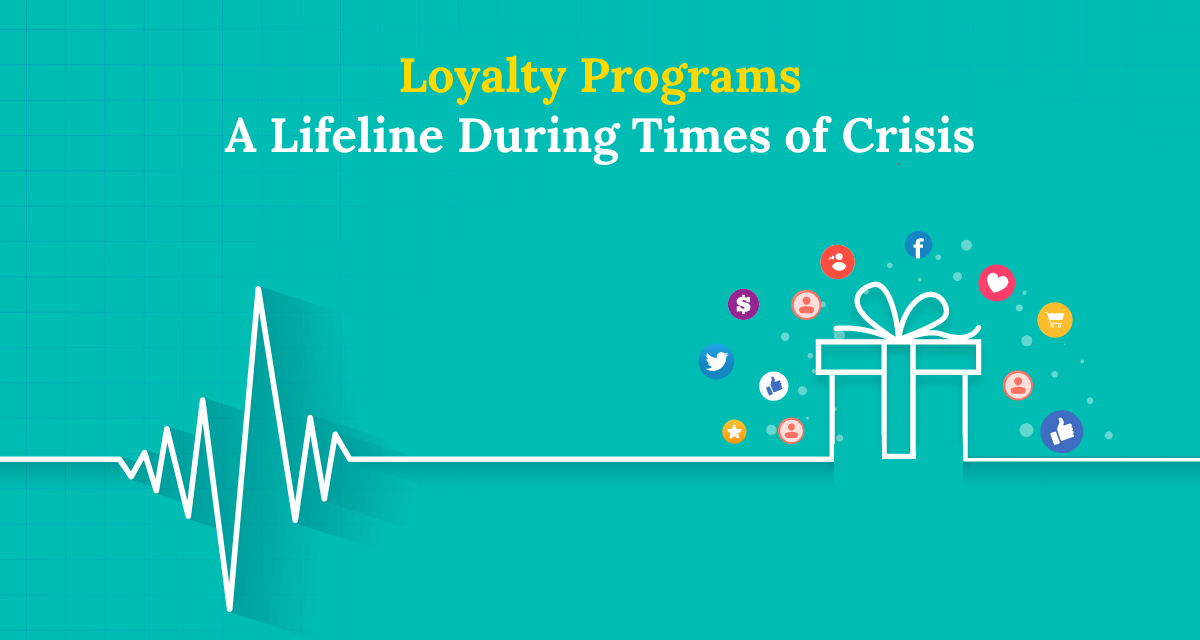 Customers always prefer brands that communicate consistently and deliver value as rewards, discounts, and experiences. Building and managing customer loyalty have become inevitable for growth-focused brands. As per the Global Customer Loyalty Report 2022, the loyalty management market is expected to be worth $15.5 Billion by 2025.
This forecasted growth is no surprise, as repeat customers generate 10X profitability for brands. Even after the pandemic, the development of the loyalty market has remained consistent. During the recession in the 1980s, American Airlines launched its loyalty program, which is still the most successful program ever. The sudden economic downturn in the west during the 90s led to cards and reward-based programs, giving brands a way to keep generating sales. Similarly, the pandemic and digital boom have only aided in the growth of loyalty programs, with data, technology & strategy playing crucial roles.
Customers willingness to experiment with new brands is at an all time high. A loyalty program helps engage customers with referrals, gamification, or experiential rewards that mitigate the chance of them moving away from you.


Millennials prefer brands with loyalty programs

Compared to gen-z and baby boomers, millennials would put a positive review after a good customer experience. Loyalty programs help recognize their needs and preferences to provide opportunities to grow their loyalty.

Repeat customers become your brand advocates easily

If the loyalty program experience is good, repeat customers refer your brand 50% more to friends and the community than one-time buyers. For retail brands, referrals have been a prime driver of consistency in revenue growth. Another interesting statistic here is that referred customers are 18% more loyal to a brand.
Targeting revenue growth for the upcoming year demands a shift from conventional approach. Instead of focusing on just transactional loyalty, brands should unlock multiple dimensions of loyalty, including social, advocacy, engagement, behavioral, and emotional.
A strong and loyal customer base can ease the pressure of recession with repeat purchases and brand advocacy. Here are some important things to keep in mind-
Customers are assets, not transactional metrics.
To earn customer trust, brands need to look differently from conventional methods, which regard customers as transactional metrics. Loyalty programs build customer relationships by instilling trust and engagement between customers and brands.
Measure customer satisfaction as a key driver.
Customers stay if they feel special, valued, and satisfied. Brands should set KPIs that reflect customer satisfaction with metrics like engagement and active loyalty program members. A satisfied customer is like a lead magnet for your brand. Retaining this community of satisfied customers is critical to spread positive brand advocacy about your brand.
A loyalty program helps brands to enhance the value offering.
The PwC Customer Loyalty Survey 2022 highlights 53% of customers stating getting good value was the top reason people patronize a business. 30% stated they liked the benefits, rewards and privileges of "a preferred company's loyalty program."

Stay consistent and continue to market your loyalty program. People will shop even with tight budgets; they will have multiple brands to choose from. This is your opportunity to stand out with your loyalty program. Abruptly ending a loyalty program in the middle of a crisis can cause a backlash among members and damage the brand's reputation. A recent survey by Marketing Charts states that 80% of customers are loyal to a brand that provides a consistent customer experience.
Customer demand can shift during a recession but it is important to tweak your loyalty program accordingly. Keep running surveys to ask customers what they are looking for and how they value different services. Prompt action on feedback & small value additions during tough times can be perceived very highly by customers.
This is a great time to show appreciation for your most valued customers. A loyalty program can provide you with multiple opportunities to show your commitment to customers' well-being. Forrester's data shows that when consumers feel appreciated by a brand, 76% of customers state they will keep returning.
Conclusion
Investing in loyalty programs yields long-term benefits. Brands that launched incentive programs during the 1990s could sustain good revenue during the 2008 recession. The principle of leveraging customer loyalty has enabled brands to navigate through volatile markets. Building customer loyalty takes time, but it can pay off when you don't have to compete just on price. A loyalty program is an essential tool to keep customers comfortable through times of uncertainty and a lifeline for brands during times of crisis. The key is hidden in being consistent and building holistic customer relationships throughout the customer journey.