Building Brand Advocates With Social Loyalty Programs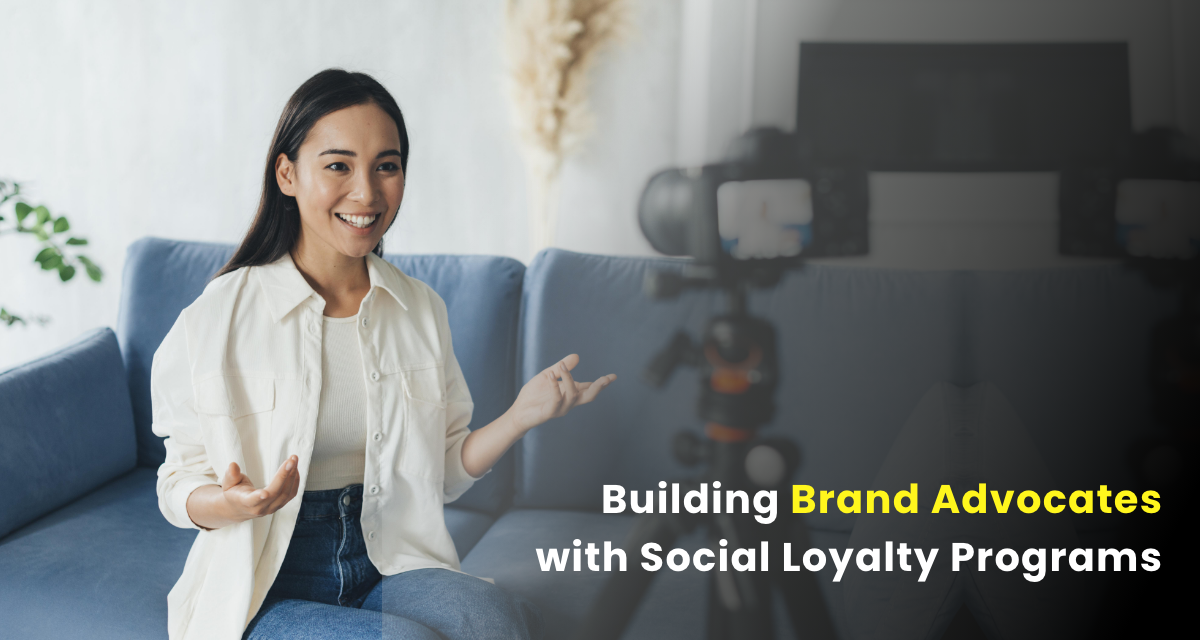 Customer loyalty is difficult to achieve because customers are not obliged to stay with you. A customer can switch brands for a variety of reasons. Another brand may be more accessible, or they may want to change and try something new. Loyalty refers to a brand's ability to remain in its customers' minds and spark a sense of allegiance in them. When it comes to engaging with a brand, every customer has different expectations and may respond to different triggers, making brand loyalty challenging to achieve.
Providing a positive customer experience has become a key differentiating factor for many successful brands. The right loyalty strategy should help enhance this experience. Social Media is changing the world. There are 4.74 billion social media users in the world today – equivalent to 59.3 percent of the world's total population. Additionally, it is reported that the average global user spends 2 hours and 28 minutes via mobile on social media each day. One of the important users in the category of social media usage are Millennials, active and available almost 24 hours a day. For them purchasing via social commerce is common. With social media's importance, brands are ensuring the social component is included in their loyalty programs.
The Rise and Significance of Social Loyalty
The rise of social rewards programs has recently transformed how we do business. Customer behavior and expectations have changed due to social media and mobile technology. Customers today expect more than just personalized service. They anticipate that brands will remember their choices and reward them for their loyalty in unexpected ways.
What Exactly is a Social Loyalty Program?
A well-planned and executed social loyalty program has a significant positive impact on your company and brand. It increases early-stage customer engagement by encouraging customers to interact via their social channels. Online recommendations, referrals, ratings, and reviews are all examples of Social Loyalty. It creates brand advocates by offering incentives to customers for referring friends. According to Bain & Company, customers who engage with companies via social media feel more connected to them and tend to spend an average of 20–40% more with them.
Your Social Media Loyalty Program game needs to be sharp
Social media is more than a platform for attracting new customers and promoting new products. It can and should be used to keep customers happy. When customers follow you on social media, building a relationship, trust, and loyalty with your followers should be part of your strategy.
It is no longer a secret how social networking sites use customer information to understand their behavior and provide them with what they desire. Furthermore, one should use social KPIs to understand your customer persona fully. This helps you to track which products and services your customers are interested in.
Let's take a look at some of the social loyalty program strategies that help brands retain customers.
1. Find and Reward Active Customers
Customers' brand loyalty is influenced by the perceived value they receive from the relationship. At the same time, brands understand that loyal customers spend more money and save businesses money on customer acquisition.
You can use social listening tools to identify social advocates to target as social VIPs and infuse value into those relationships. For example, offer inclusion in a social VIP club in which members are rewarded on an ongoing basis for their participation. On a leading social channel, supermodel Miranda Kerr offers customers a $25 gift card in exchange for joining the VIP program for her cosmetics line, KORA Organics. These tactics can encourage customers to consider a brand for themselves and motivate them to spread the word in their social network.
2. Make them feel special
Are you launching a new product or service? Give VIPs an early look, access, or an upgrade. This tactic, in addition to retaining customers, aids in amplifying the promotion for a product launch. Allow social VIP customers to earn loyalty program points through social interaction if they are members of your brand's loyalty program.
Another way to make customers feel important is by engaging with them after the purchase. Once a customer has a positive purchase experience, they're eager to share that experience. Giving customers the option to receive rewards for their product reviews or ratings encourages more sharing and creates strong brand advocates.
3. Measure the results
First, review your business analytics reports to monitor the success of the social media loyalty program. Finally, when you put your efforts into getting back your customers, it's also essential to measure how much you have succeeded in that goal.
Many tools can help you with tracking the performance of your social loyalty program. These will assist you in determining how much you are gaining from your efforts. Measuring the effectiveness of your loyalty programs will also assist you in overcoming the shortcomings of your social media loyalty programs.
4. Make the most of Influencer Impact
Customers who receive recommendations from people they trust are more likely to purchase. Today, Influencers play a vital role in consumers' decision-making journey. Their views are naturally seen by a more significant number of people who trust them, influencing customers to make a purchase.
Having influencers will help you reach a large audience of existing and new customers alike. After that, promote your loyalty program with their help. For example, Sephora's program to create a community of influencers and reward them through personalized experiences was an instant hit among their customers. The campaign garnered more than 76k conversations and 1,500 active topics on a daily basis. They also expanded the program into multiple tiers. Based on the spending over time, you can get more or fewer rewards.
In the Spotlight:
Give the example Jelly Belly as they used the reviews angle to boost reviews.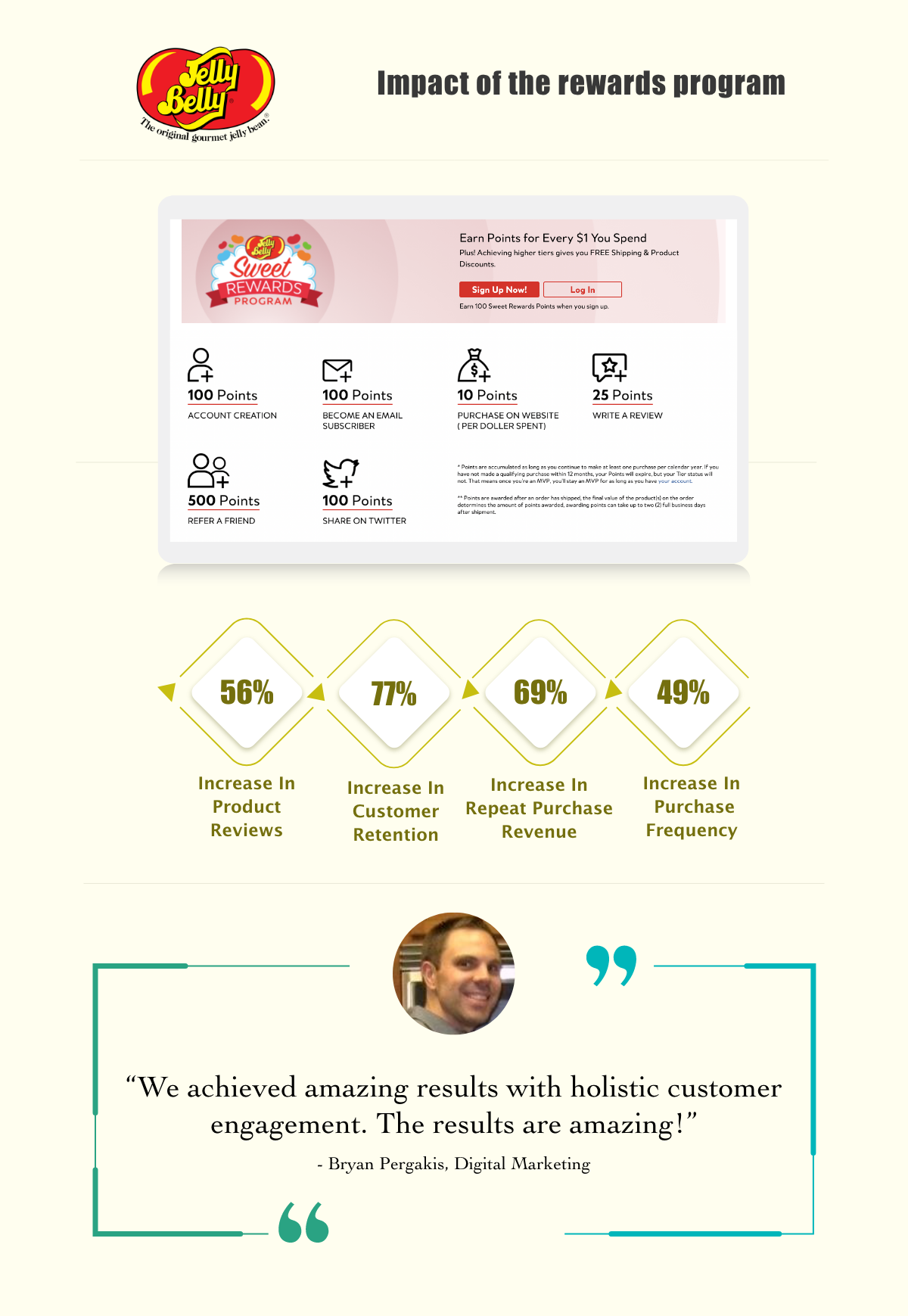 The rise of digital channels has resulted in how brands interact with their customers, and social media is one of the many touch points that brands use to stay in touch with customers.
Loyalty programs are often considered a reward system, but they can do much more. A loyalty program can provide an opportunity to delight customers and connect with them more profoundly, in addition to keeping them engaged.
The process of rewarding customers for their social loyalty enables you to build trust, provide a memorable customer experience, and strengthen their loyalty to your brand. Ultimately, social rewards programs can help you build brand advocates.