3 Key imperatives for retaining customers through loyalty programs in 2023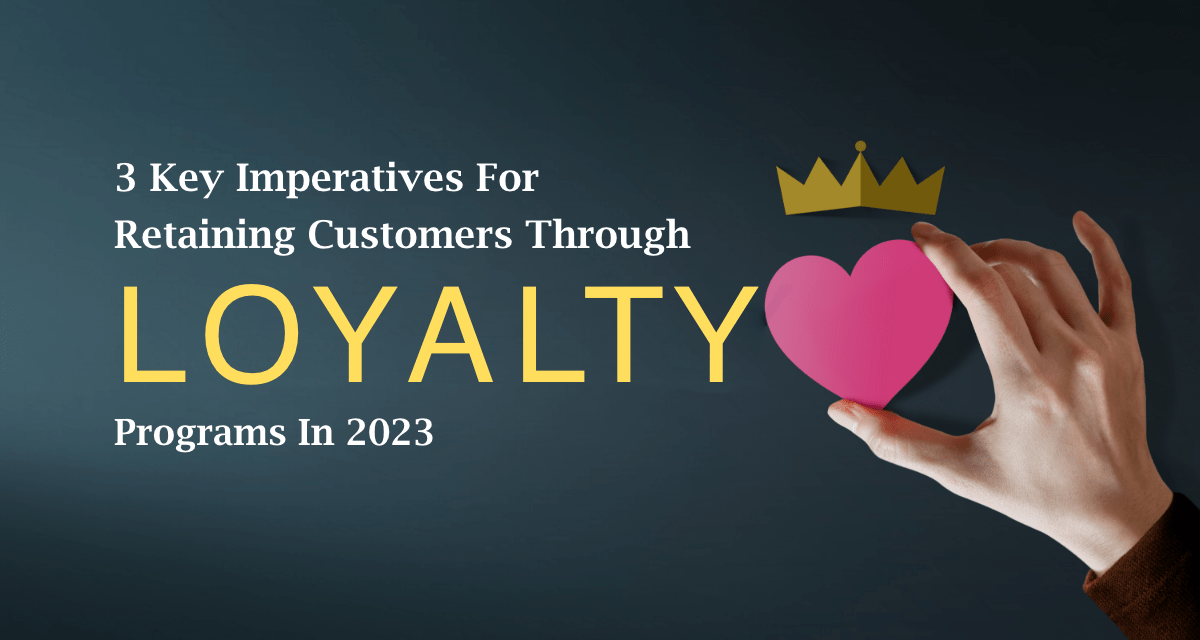 The loyalty management market is expected to grow to $18.2 Billion by 2026. This indicates that most brands are looking at deploying a loyalty program. The increasing competition demands brands to differentiate and act early to retain as many customers as possible.
The next step is to differentiate your loyalty program. Rapid digitization has affected the buying behavior of customers immensely. To retain more customers, nurturing customer relationships is a must. Today, 72% of customers consider loyalty programs as a crucial part of their relationship with brands. Since customers value loyalty programs beyond discounts and cashback, brands also need to match customer expectations. It's time to hop on a holistic approach toward loyalty programs. Let's break down the holistic approach into key imperatives.
3 Crucial Imperatives for Successful Customer Retention

1. Deep Data Analytics
Customers crave personalization in loyalty programs. 80% of customers love to do business with brands offering personalization. Loyalty programs must implement personalization to rewards, marketing communication, and customer experience. But how can brands achieve hyper-personalization? The answer is deep data analytics.
Brands regularly collect data in vast amounts and a lot of variety. Deep data analytics enables brands to understand buying patterns, segment customers, predict buying behaviors, and analyze loyalty program performance.
This analysis assists brands in making the loyalty program customer-centric. For example, analyzing purchase data reveals the preferences of customers.
Key aspects of a data-driven loyalty program:
Mapping of customer touchpoints –
Accurate mapping of customer touchpoints produces high-value data with tags that make it easy to segment customer data. This data helps brands perceive customer insights and make informed decisions.
For example, if a loyalty program member regularly visits the brand's store, they would prefer in-store discounts over discounts for online shopping.
KPI benchmarking –
Every loyalty program uses specific KPIs to monitor performance. These KPIs can differ based on customer segments, industry, location, and goals of the programs, i.e., a global loyalty program will have different KPIs than a local loyalty program.
With deep data analytics, it becomes easier to set accurate KPIs and measure the performance of loyalty programs consistently.
2. Deliver Seamless Customer Experience with a Robust Technology Platform
The buying behavior of 66% of customers changes based on their way of earning rewards. From having multiple tiers, and gamified rewards to omnichannel customer engagement, brands need to look at customer experience holistically. A robust technology platform makes the program adaptable, secure, and omnichannel.
Simultaneously, assuring customers of data security is essential. Privacy policy, cookies policy, and following regional laws for data security have become mandatory. Communicating about measures taken for keeping the data secure helps build trust.
Let's see how technology opens new avenues for brands to explore:
Headless architecture & APIs-driven program-
A headless architecture can make loyalty programs flexible for marketers. Without impact on the user interface, marketers can test campaigns and track performance.
Through APIs, loyalty programs become accessible on different platforms. For example, POS integrations enhance the in-store customer experience for loyalty program members. Simultaneously, CRM integrations enable brands to engage with customers digitally in real time.
Tracking and monitoring campaigns
It is common for brands to run multiple campaigns at the same time. But keeping track of each campaign in real time is challenging. By upgrading the MarTech stack and incorporating tracking tools in the loyalty platform, brands can manage every campaign with a single dashboard. This enables real-time performance management and the ability to adapt quickly.
3. Strategic Consultation to make Loyalty Program Agile
Research suggests that poor customer retention strategies can cost up to $83 Billion to US-based companies annually. Changing customer behavior demands brands to think beyond traditional methods and focus on customer retention.
Every successful strategy is agile and adaptable. 2023 demands a holistic approach while crafting the strategy for the loyalty program. Below are essential aspects to focuson:
Customized strategies for specific customer segments
Brands have multiple customer segments. The buying behavior of each segment is different. Satisfying every segment with a single strategy is not plausible. Customization of strategies added with a customer-centric approach has the potential to increase customer retention rate.
Enhance planning by analyzing the past performance
Consistent analysis of the loyalty program can reveal valuable insights into its performance. Over 50% of loyal customers actively refer brands to friends and communities. Targeting existing customers and delivering value to them gives better ROI than acquiring new customers.
Analyzing the current program helps brands to identify rewards favored by customers, improve the program interface, and identify new opportunities to increase engagement.
Conclusion
With the increasing competition, maintaining loyalty in 2023 will be challenging.
Loyalty programs having a data-driven strategic approach, backed with the latest technology, can aid brands in fostering long-lasting customer relationships. Developing trust and delivering a seamless customer experience should be the primary goal. Above stated key imperatives signify the importance of adopting a holistic approach toward loyalty programs.
Loyalty programs can enable brands to achieve goals like customer engagement, stable revenue growth, less customer attrition, and better retention. It's time to get data analytics, technology platform and strategy in sync to be loyalty ready for 2023.