Interview With Melissa Gonzalez: Building a Successful Customer Loyalty Program in Retail
As a part of Zinrelo's influencer blog post series on 'Building Successful Customer Loyalty programs in Retail', we interviewed yet another retail strategist Melissa Gonzalez, CEO of The Lionesque Group. She specializes in brand activation management and Pop-Up retail experiences.
Melissa shared her thoughts with us on how brands can leverage simple techniques to engage users at multiple touch points of the customer journey to enhance retention and brand loyalty with a focus on integrated customer loyalty programs. To know more about the insightful tips and strategies from Melissa, read the excerpts from the interview below.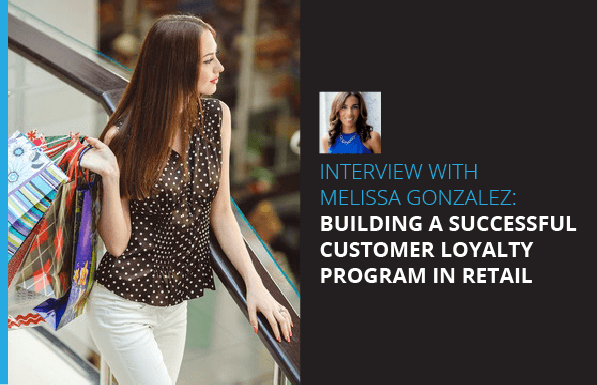 ---
Q & A Excerpts – Building a Loyalty Program 
Zinrelo: What are the key features that retailers desire in a customer loyalty program?
Melissa: Customers value personalization when it comes to loyalty programs. They want to know the brand understands and cares about who they and what they like. For brands it's the opportunity to infuse a human touch to an otherwise transactional moment. It needs to be high touch and ideally solves a desire before a customer even knows they have one.
Zinrelo: Top strategies for retailers to encourage customers to engage with their loyalty program?
Melissa: Keep it simple, seamless and straightforward. The point of a loyalty program to enhance a customer's overall experience with a brand, so it can not cause them extra work. Be transparent on how it works, require a few clicks as possible and make it easy for them to understand how participation is a true benefit to them.
Zinrelo: How retailers can measure the success of a customer loyalty program?
Melissa: Understanding success metrics upfront is crucial. Have a clear perspective on what action steps you want a customer to take, what micro conversions look like and overall goals. Begin tracking from day one the entire funnel to see where interest and any potential friction lies, as well as measuring the impact your program has on extending the lifetime value of your customers.
Free value calculator to estimate the ROI your business can derive from the loyalty rewards program.
---
More About Our Influencer: Melissa Gonzalez
Melissa Gonzalez is Retail Strategist & Pop-Up Architect™, CEO of The Lionesque Group and author of The Pop Up Paradigm: "How Brands Can Build Human Connections in a Digital Age". Following a period where Gonzalez juggled both a Wall Street career at Credit Suisse and co-hosting BET's Latin Beat, she has become the go-to retail and pop-up architect for brands looking to either launch their brand, test new markets or insert their brand into strategic conversations.
Melissa is a regular contributor on ABC LA Radio and is one of IBM's Retail Futurists. She has been awarded Retail Touch Point's 2015 Retail Innovator of the Year, the Wall Street Journal's Donor of the Day, one the top 20 Most Inspiring People in New York City and one of the Top 100 Young CEO's- via Our Time's White House Initiative.
Twitter Profile: https://twitter.com/melsstyles ; Website: http://lionesquegroup.com/