What Is Transactional Loyalty and Does It Lead to Long-Term Customer Loyalty?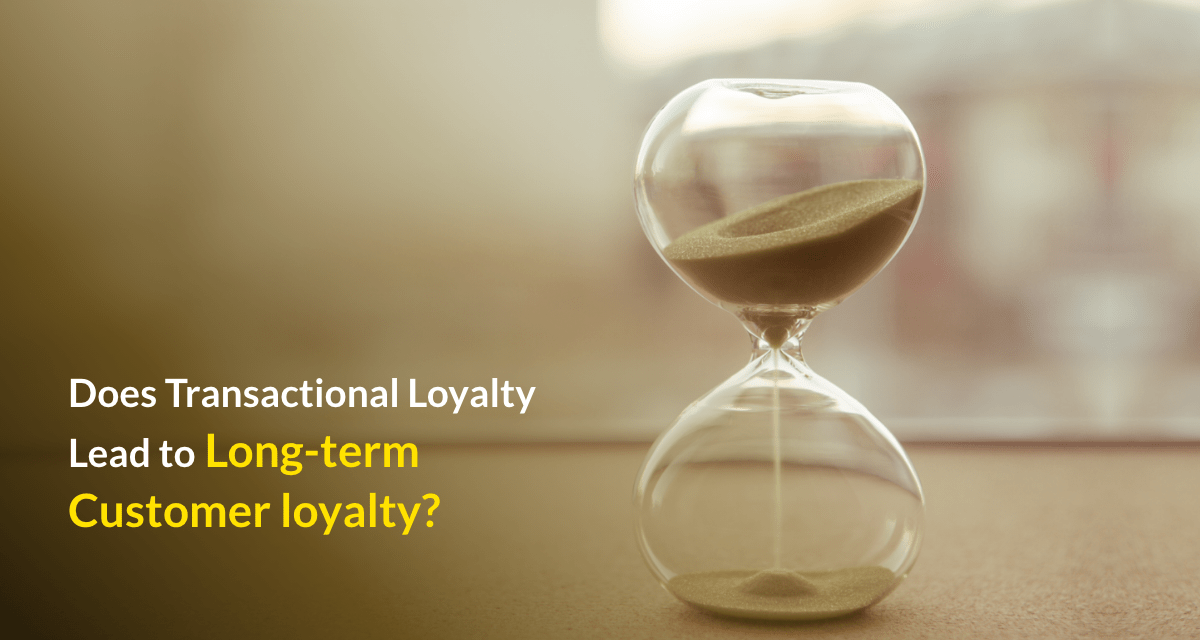 COVID-19 has changed almost everything in terms of customer-brand interactions. A pandemic of historic proportions has upended traditional strategies and tactics that brands have used to retain loyal customers and attract new customers.
What is Transactional Loyalty?
Transactional Loyalty is one among the many different flavors of loyalty. It includes making offers or offering discounts to customers. For example, transactional loyalty can be rewarded via Online purchases, In-store purchases, Subscriptions, Third-party Retailers (Receipt Upload, Code Scan), App & Phone, etc. It is a potent tool for bringing back customers.
For example, DefenAge, a popular skincare company from the United States, offers their online customers 1 point on every purchase they make via their website. Customers can spend the collected points on their next purchase and get a discount. Additionally, customers earn a welcome bonus of 75 points when they create an account with DefenAge.
The rise of transactional loyalty programs helps foster customer loyalty. According to Statista, the global cashback industry is expected to be worth more than $200bn a year by 2024, with statistics showing that 46 percent of cashback participants consider it a vital step in their purchase decisions. The transactional loyalty programs (and loyalty strategy more broadly) will play an even larger role in enabling brands to thrive post-pandemic.
The Evolution of Transactional Loyalty Programs is Must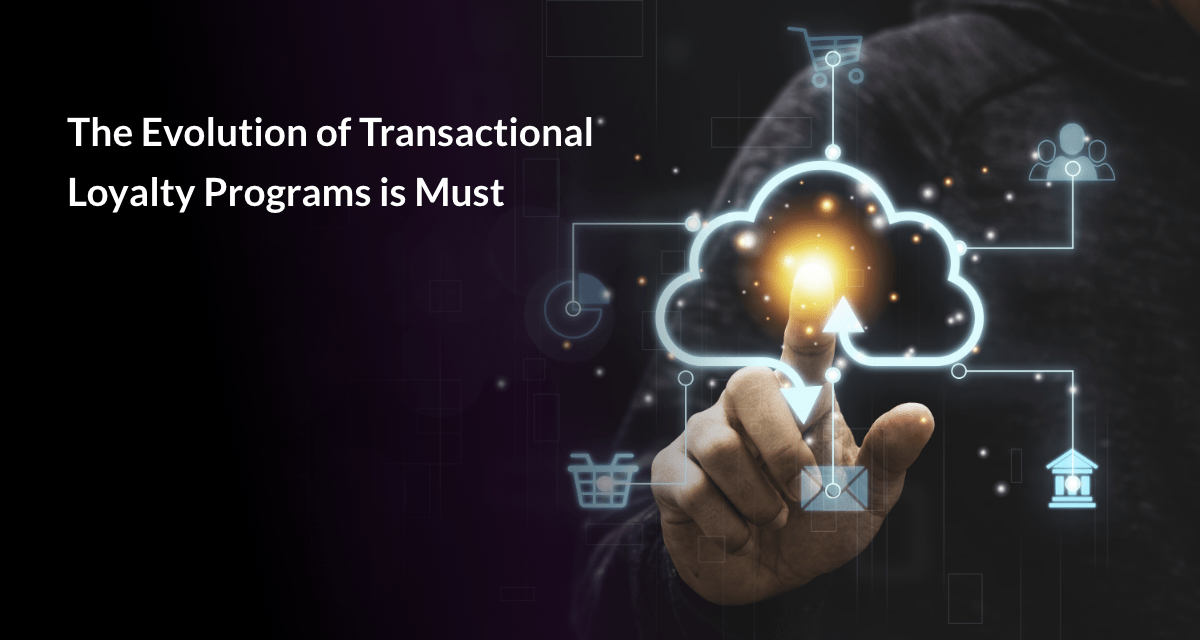 Isn't loyalty ultimately about where the customer spends their money? Transactional loyalty strategies are simple, easy to use, and give customers the indisputable feeling of getting a good deal. Instant discounts, in particular, entice customers to join loyalty programs. However, enrolling members in your program isn't the only goal.
The goal is to retain & engage them as active members. Memorable experiences are the key to establishing long-term emotional connections and increasing customer retention. Every marketer wants to build a brand that connects with customers, but let's be honest: every customer is unique, and every experience is unique. Having said the above, organizations in the post-pandemic marketplace will be those that realize the world has changed and recognize the need to evolve their loyalty program and broader loyalty strategy to meet the new post-pandemic world's needs. We all love a good discount, right? But focusing too narrowly on just offering transactional rewards can be unhealthy for creating a unique loyalty program experience.
Reimagining a Transactional loyalty program effectively will require in-depth, objective analysis and careful strategic planning. In order to drive brand affinity, brands will need to re-examine which customers are most important to them, how those customers interact with specific transactional rewards, and what features resonate with those customers.
This is where incorporating Experiential benefits with Transactional is necessary.
The Perfect Fit – Transactional & Experiential
Transactional loyalty is an important and necessary ingredient in building brand ambassadors. However, experience-based loyalty initiatives enhance member experiences and create a lasting emotional connection between brands and customers. According to Gartner consumer preference for experiential benefits for loyalty programs has increased from 2018 to 2022 (see the graphic below).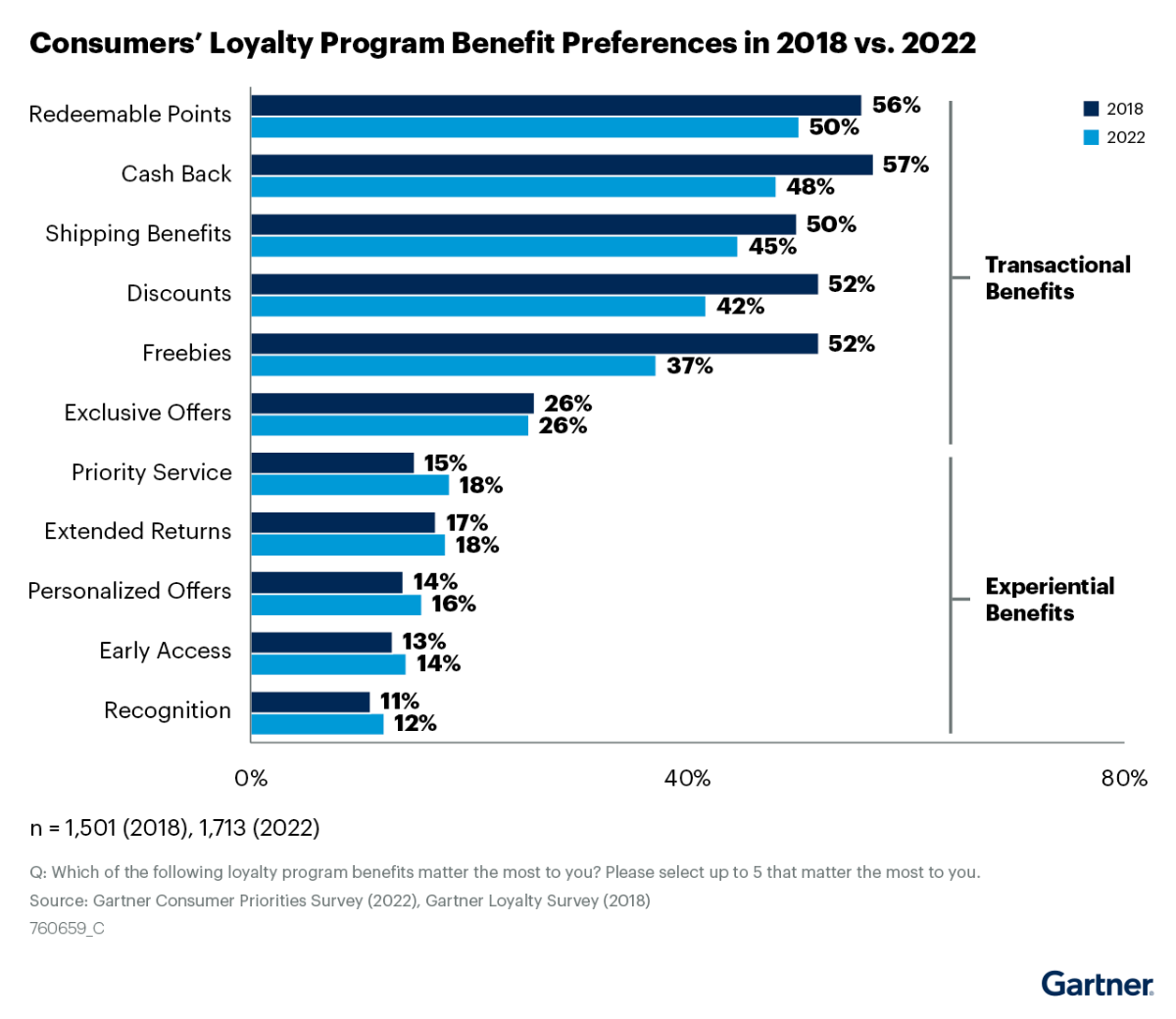 Customers want material benefits, but they also want special treatment. And often that special treatment comes in the form of experiences. Transactional benefits are necessary from a short term perspective, but experiences elevate loyalty to a whole new level. They foster long-term emotional bonds between brands and customers.
For example, The North Face provides its loyalty members with the perfect mix of Transactional & Experiential Loyalty rewards.
As part of their VIPeak program, customers can earn points through traditional methods like making purchases, as well as through less traditional ways like attending events, checking in at certain locations, downloading the company's app, and more. However, the most captivating factor of The North Face's experiential loyalty program is the vast array of choices they offer when members redeem their rewards. Customers can use their points toward unique travel adventures like mountain climbing in Japan or Hike to Machu Pichu. The North Face's rewards program has propelled its customer experience to the summit.
However, the most enticing aspect of The North Face's experiential loyalty program is the wide range of options available when members redeem their rewards. The North Face's rewards program has elevated the company's customer experience to new heights.
Conclusion: Striking the Balance Between Both Will Foster Customer Loyalty!
Navigating the post-pandemic world will be challenging, particularly given the lack of a reliable baseline to predict future consumer behavior. The traditional spend-and-get loyalty approach is simply not enough to foster genuine, long-term relationships with today's customers. You also want your customers to feel valued and appreciated before and after they make a purchase. Rewarding your customers for non-transactional behavior can be more effective to foster long-term loyalty.
Achieving a balance of transactional and emotional loyalty benefits will assist brands in attracting and retaining more customers. Transactional benefits are necessary, but experiences elevate loyalty to a whole new level. They foster long-term emotional bonds between brands and consumers.
Brands seek transformation in order to stand out from their competitors. Many customers look for differentiation in experiences that strengthen the emotional bond and foster brand loyalty. With different types of transactional loyalty strategies, brands should incorporate the right mix of offers depending on the customer's interests and needs. Using both types of rewards allows you to have an automated rewards strategy while still delivering a personalized loyalty program experience that sets you apart from competitors.